---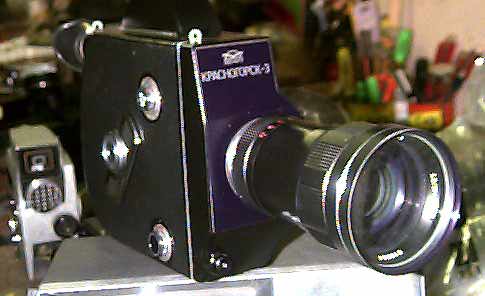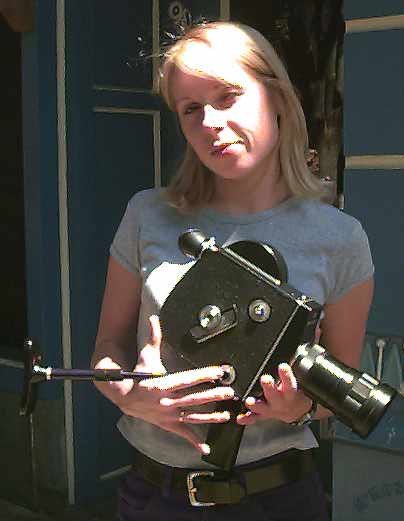 16mm Cameras
BRAND NEW
Krasnagorsk K-3
Standard16 mm OUTFIT
GREAT STARTER CAMERA!
COMPLETE OUTFIT
Reflex viewing camera with meteor 1.8 5:1 zoom (17mm to 69mm) body, zoom lens, filters, close up filters, shoulder stock and fitted leather case 8, 12, 16, 24, 32, 48 and single frame, wind up spring motor, runs 15' per wind,built in meter, reflex viewing by rotating mirror
K-3 Used like new $699.
K-3 Standard NEW $825.
K-3 PRO-NEW $1,125.
these are cameras that have been upgraded by Reel Trading and are guaranteed by them to be perfectly functional an not to scratch your film.
Krasnagorsk-3 Upgrade for your camera $425. including shipping
Our technician disassembles loading and transport mechanism and remachines and polishesvarious areas to eliminate any possibility of scratches to your precious film. We can upgrade any K-3 camera body that you send us. Allow 2-3 weeks.
Canon Scoopic-16


JUST IN!!
Canon Scoopic-16
This was the cat's meow in TV news cameras in the early 1970's. This is an all in one 16mm electric camera that's as easy to use as a super 8!!
It features Canon Zoom f 1.6 13 to 76mm lens, auto and manual exposure, 16, 24, 32 and 48fps, no single frame. Complete with factory case, copy of owner's manual one battery and 4 hour charger.
These are my favorite 16mm cameras.
$1599.
WE MANUFACTURE NEW INTERNAL BATTERIES FOR THE SCOOPIC 16
$199. EACH NiMH cells
chargers $75 each
for Scoopic M and MS
$249. each
we can recell your old batteries with NiMH cells
$89. for the Scoopic 16
$109. for the M and MS models

Beaulieu R-16
Reflex viewing, built in motor, 2-64 fps, single frame,
auto or manual exposure Angeneux f 2.2, 12.5 to 75mm zoom,
new external nicad battery pack and charger, will accept most c-mount lenses.
$1999. fully serviced unit
$1599. good used unit
add 200' magazine and torque motor
$349. additional
handgrip with recelled beaulieu nicad battery and charger
$725.
WE CAN RECELL YOUR DEADBEAULIEU BATTERIES!!
e-mail for quote

Century Super Wide Angle
f 1.8, 5.7mm, C Mount
Excellent Condition
$999.
Kern Switar 10mm RX FOR REFLEX
f1.6, 10mm, C Mount
Excellent Glass, Ding in Mount, Thread is Good
$679.
10MM 1.9 RX SOM BERTHIOT
$450.
25MM 1.4 RX SOM BERTHIOT
$300.
16MM SWITAR RX
$499.
25MM SWITAR RX
$499.
WE HAVE OTHER BOLEX SWITARS
AND CAN GET ANY LENS YOU NEED
CALL!!
PAN CINOR 17-68MM F 2.5 ZOOM WITH SIDEFINDER
THIS LENS GIVES YOU REFLEX VIEWING ON A STANDARD BOLEX OR OTHER C-MOUNT CAMERA
$349.

Bolex H-16
Body only, no lenses, non-reflex, 100'

$399.

THIS IS AN ECONOMICAL WAY TO GET INTO 16MM

CAMERA AND THREE LENSES

$699.

---

REFLEX VIEWING BOLEXES
Bolex H-16 REX 2
Body only, no lenses, reflex viewing, 100'

$799.

ADD $60 FOR REXOFADER
Bolex H-16 REX 3
Body only, no lenses, reflex viewing, 100'

$899. FRESHLY SERVICED
Bolex H-16 REX 5 PERFECT
CURRENTLY OUT OF STOCK BUT WE CAN SUPPLY THEM FOR ABOUT $1,799. BODY ONLY
accepts 400' mags
complete outfit H-16 REX 5, with switar 16-100 POE H 16 RX zoom, auto exposure,

2 400' mags, 24 FPS motor, case

$2,999.

---

Bell & Howell Filmo 70 DA

16mm, 100'

Body only, no lenses, Hollywood Newsreel Camera

$229.

Body only, no lenses, military o.d. camera, takes 400' mag

$279.

400' magazine and 110v. motor for above filmo

add $299.

with two lenses

$389.

add $59. for fitted leather case when we have them

---

16MM MAGAZINE CAMERAS

we have several Kodak and B&H Magazine 16mm cameras

these are wind up cameras that take 50' 16mm magazines

I use one often

$129 to $150 with 25mm lens

we have plenty of plus x 16mm magazine film for these cameras

$45/roll

we have kodak plus x reloads $10 each (50')

the mags can be reloaded with any 16mm film

---

Regular 8

100' of regular 8 film yields almost 12 minutes of finished footage!!

Bolex H-8

Body only, non-reflex, 100' regular 8

(processes to 200' - we have plenty of film)

$225. we have several

Bolex H-8

body and reflex lensreflex, 100' takes reg 8

with reflex som berthiot pan cinor lens with reflex side finder

(processes to 200' - we have plenty of film)

$359.

Bolex H-8 REX 4

Body only,reflex, 100' takes double super 8

(processes to 200' - we have plenty of film)

$399.

we have many other Bolex regular 8mm cameras. ASK!

many lenses available for this camera

Lenses available for all cameras listed above.
We can get almost any make or model - just ask.