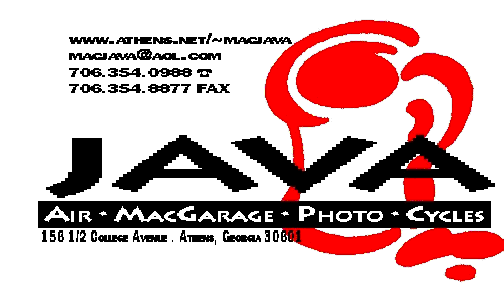 ---
ORDERING INFORMATION
call or e-mail with questions!!
we answer e-mail noon and night
don't be shy - we're used to dumb questions
You can call us, e-mail us, or fax us credit card info or mail us a money order
JAVA PHOTO
706 354-0988
OPEN
Monday-Friday
1-6 p.m. Eastern Time
156 1/2 College Avenue
Athens, Georgia 30601
706 354.0988 1-6 p.m. Eastern Time
706 354.8877 FAX
We accept Master Card, VISA, American Express & Discover Cards
We ship UPS in USA, Priority Mail for small value items.
FED EX available
INTERNATIONAL SHIPPING is generally via insured Air Mail
but we'll ship any way you choose.
For security, you may FAX us your credit card numbers and expiration date
FAX 706 354-0988
OUR GUARANTEE
Almost all of the equipment we sell is used, much of
it is 20 to 30 years old. We guarantee our equipment to be in good operating order
as described....we accept returns when there is a problem with an item, within 15 days.
ONLY WITH AUTHORIZATION!!! CONTACT US IF THERE IS A PROBLEM.
However, we reserve the right to charge for shipping and a 20%
restocking fee if we feel the return is unwarranted.
NO RETURNS ON FILM!!NO RETURNS ON FILM!!NO RETURNS ON FILM!!